Ecological project
Our environmentally focused activities are mainly in sustainable mobility and various 'Green Deals', voluntary agreements between private-sector partners and the Flemish government to achieve specific environmental objectives together. In sustainable mobility, we are in the vanguard of electric driving, adopting the principle of 'Electric First'.
Electric First: the choice for sustainable mobility
We have had an Electric First policy for our company vehicles for some years now. We are replacing existing petrol and diesel vehicles with the most environmentally friendly alternative available at the time. If a fully electric model meets the needs in terms of action radius or load capacity, then electric is our first choice.
Over the past year, we replaced several hundred company vehicles running on petrol and diesel – including leased vehicles – with fully electric, plug-in hybrid or compressed natural gas (CNG) models. By the end of 2021, there were 14 fully electric, 460 plug-in hybrid, and 45 CNG cars in lease. For the service vehicles, this included 98 fully electric and 205 using CNG. In 2021, only one diesel lease car was ordered. All other lease cars ordered were 100% electric or plug-in hybrids.
Over the coming years, we will be renewing around 800 company vehicles in total. Electric is currently the best alternative for cars and small vans. For larger vans that drive many kilometres or transport heavy equipment, CNG is more suitable as yet. The decision to go 'as green as possible' and 'electric when possible' means that we will eventually save more than 1 million litres of fossil fuels a year.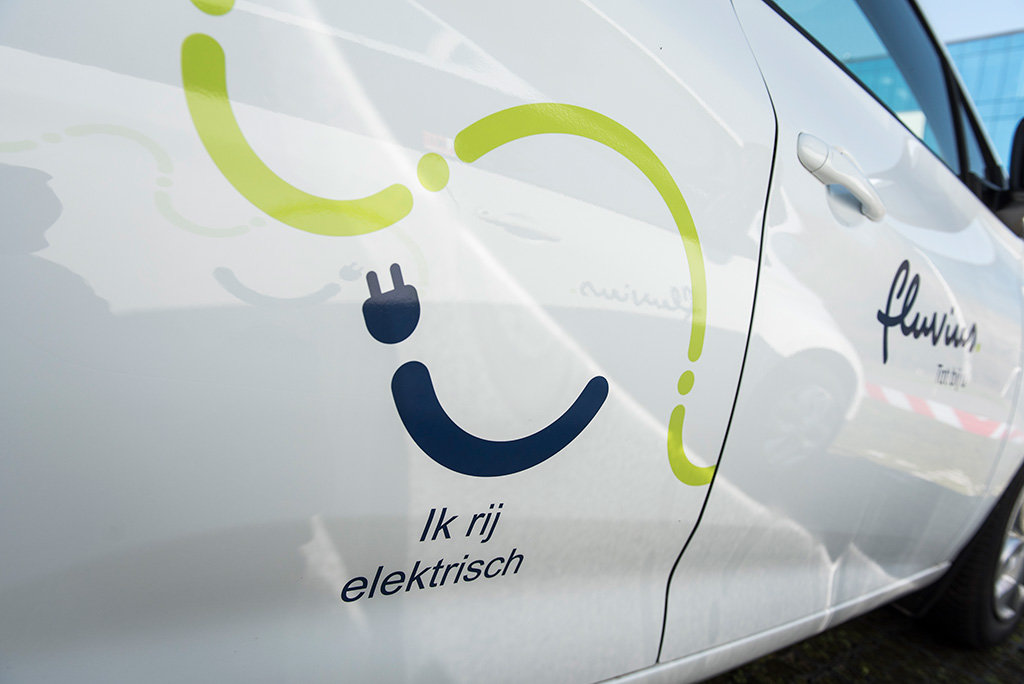 1,000,000: that's how many litres of fossil fuel we want to save by opting for sustainable mobility
Renewed waste policy for contractors
In 2021, we launched an upgraded waste policy for contractors together with the relevant internal stakeholders. Moreover, the contractor is also responsible for properly disposing of all waste materials that comes free during their work for Fluvius. Examples: residual waste, paper and cardboard, hard plastics, asbestos, old public lighting fixtures (see below), as well as copper cables, mixed metals, etc. Exceptions are the materials that meet the circular economy criteria or recyclable materials that are specifically mentioned in the technical specifications. The implementation process of the upgraded waste policy is ongoing and will be completed in 2022.
Handling public lighting using a social enterprise company
An example of circular materials are old public lighting fixtures. We were contractually permitted to gradually process the old lighting waste flow ourselves following the principle of circular economy. In 2021, the local social enterprise company W-Technics in Zele carried out some pilot tests on dismantling these light fixtures. They ensure the recycling and waste flow is cleaner thanks to the better sorting of the source materials.
This pilot project was evaluated positively both financially and socio-ecologically. This means the processing principle will be further expanded and continued from 2022 onwards. We are now starting a similar exercise for the other seven contractors in this contract.
Circular procurement: from old T-shirt to eco clothing
In 2019, we submitted a project to Circular Flanders. The project processes old workwear sustainably. We did not want to waste the old clothing that was collected when we bought new workwear for the newly merged organisation Fluvius.
So, we explored several avenues together with our partners Centexbel and Design Atelier van den Boorn - Pour. In the end, we found a circular solution for the old T-shirts and polo shirts where the clothing was first shredded into high-quality fibres and then processed into new yarns. We have new clothes made from them. The principles of eco-design have been taken into account in the design, so that recycling is possible again. For example, before the official project end in December 2021, we succeeded in having a circular hoodie, hat, and scarf produced by local players in the textile industry.
Staff could buy these clothes to benefit the Food Banks. In the spring of 2022, as part of Kom Op tegen Kanker (Fight Against Cancer), we will also be offering a sweater and stockings that are also made of this circular yarn.
Sustainability Competence Centre
As a part of Fluvius' Corporate Social Responsibility (CSR) charter, when we purchase work materials, goods, services, and ICT, we are guided by the principles of socially responsible procurement (SRP), such as sustainability and social justice. We screen and assess (candidate) suppliers in terms of environmental and social aspects. And which, where possible, are also included in the selection and award criteria for purchasing dossiers.
We established a Sustainability Competence Centre (SCD) to put this procurement policy into practice. So, we try to gather and share as much knowledge as possible about sustainability and how to integrate it into a purchase dossier. We wrote a practical guide that provides useful tips and tricks for each phase of the purchase procedure to further include sustainability in the purchase dossier. The SCD also advises colleagues on certain procurement issues and organises brainstorming sessions on the subject.
The SCD takes five focus areas into account:
positive ecological footprint
local growth
respect for employee conditions
social economy
circular procurement.
In the coming years, we will focus even more on these themes and the UN Sustainable Development Goals (SDGs), namely, sustainable procurement policy and CO2 footprint our own activities.