Education and training
Because we believe training and development are very important, we cooperate closely with the education sector. As well as internships, we also offer dual learning for students from specific disciplines. At the annual 'Spitsdagen' (Top Days), the various education-sector players get to know our organisation and each other better. Additionally, we make our internal training offer available to partners and contractors.
Dual learning at Fluvius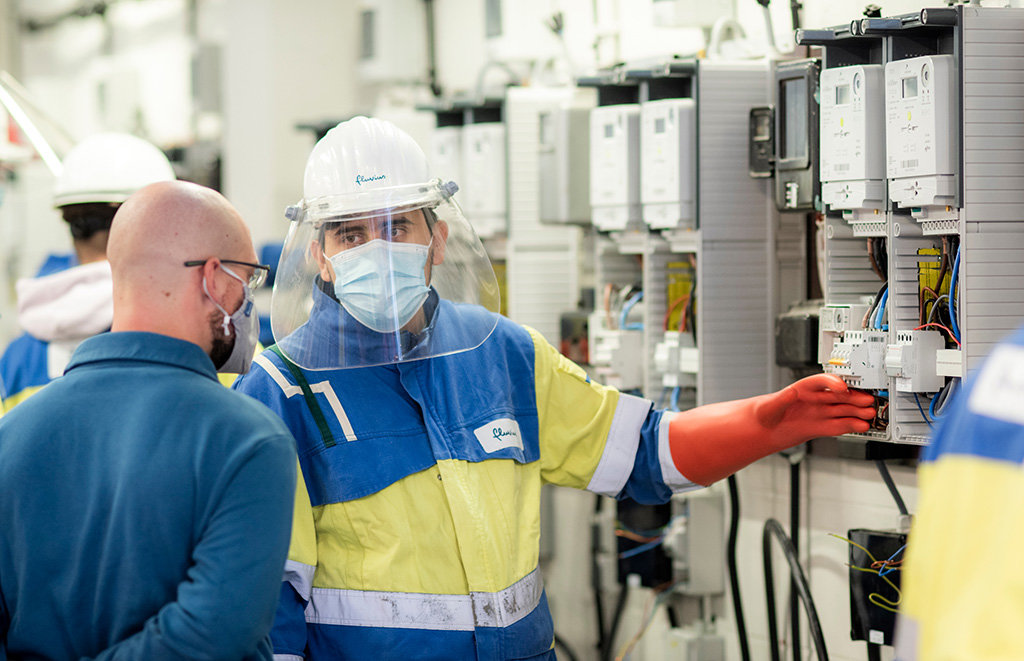 Fluvius organises a combination of education and work experience in the form of a dual-learning course. We have had students from the 'Logistics' course with us since the 2018-2019 academic year. In the 2020-2021 academic year, we started a new 'Utilities Installer' course. For the school year 2021-2022, we started a new course 'Utility Installer' with 21 students.
At our Fluvius Academy, we teach our technicians to build electricity grids and to repair and maintain them, as well as connecting customers to them. The students on this dual course attend the Fluvius Academy to learn the ins and outs of the trade, step by step. They then use the knowledge they have acquired in practice, with supervision from experienced technicians.
Internships with Fluvius
The coronavirus crisis meant that all internships from March 2020 onwards were cancelled unless it was possible to continue them under safe conditions. For the school year 2021-2022, seven students completed their internships: 1 technical master, 1 technical HBO5, 1 technical bachelor, 2 law masters, 1 ICT student, and 1 administrative profile via VDAB training.
Top Days
In February every year, Fluvius' Education Working Group organises the Spitsdagen, or Top Days. During this networking opportunity, teachers of technical subjects are given an explanation of our company's latest developments, a particular specialism, a current hot topic, or a similar theme.
To give all colleges in Flanders the opportunity to take part, we organise a total of three days at various times and locations. We reach about 40% of all technical schools with it. Fluvius' regional managers and recruiters can make contacts there with technical teaching staff, technical advisers at the colleges and the staff of the Regional Technology Centres
Online training for contractors
In 2021, our accredited partners and contractors were also able to access the Fluvius curriculum online as well as enrol their staff for courses. We also now offer an online self-study programme through our 'Working on connections' learning track.
You can follow it wherever and whenever you want and it is a necessary and mandatory preparation for training courses at the Fluvius Academy.