Even in times of the ongoing coronavirus, we continue our long-term cooperation with our charities. We organised actions for the Food Banks and Kom op tegen Kanker (Action against Cancer). A sense of commitment and good interaction between our staff and the charities are key factors
Fluvius warm heart
In October 2021, we launched a new internal end-of-year campaign under the name 'Fluvius gaat hart' (Fluvius warm heart) to raise money for the Food Banks. The coronavirus created an extra challenge because we had to resort to online promotions. We also tried to encourage the connections between colleagues as much as possible. For example, the WarmHartenMarket, an online auction for and by colleagues, was very popular. Moreover, the sale of unique, in-house designed gift paper and recycled workwear was also successful. The Fluvius staff also showed their warm hearts by donating generous gifts.
To top it all off, Facility Management donated the proceeds totalling 27,948.35 euros from a furniture auction to the campaign.
These initiatives, supplemented by donations from teams and contributions from, among others, the Kilometre Challenge, yielded no less than a total of 100,222.35 euros for the food banks.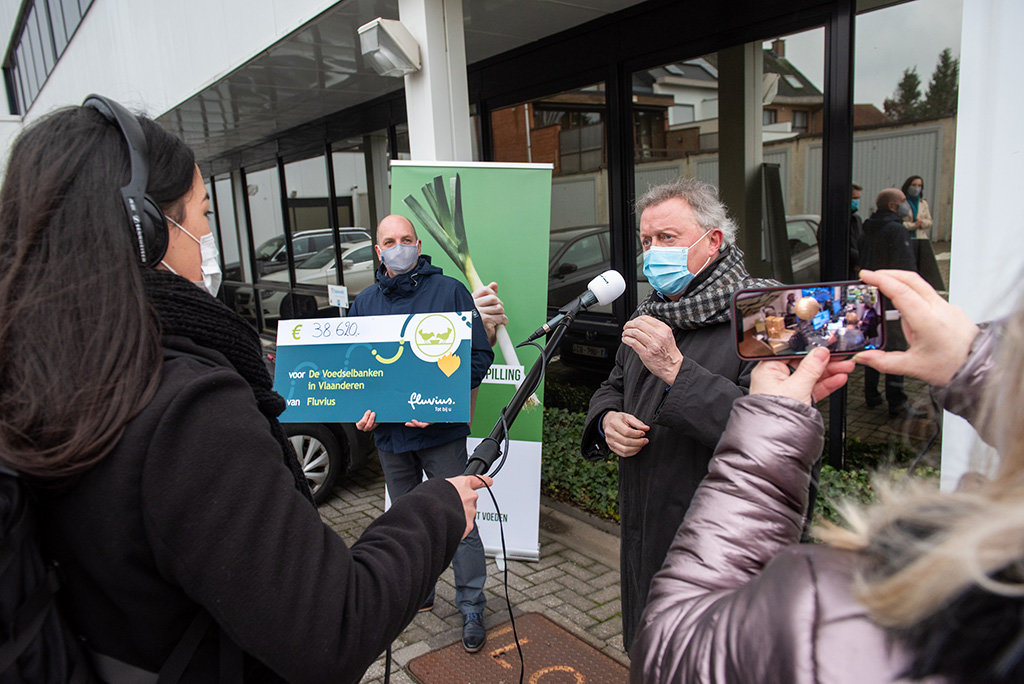 Action against Cancer
The annual Action against Cancer campaign was once again hit by the coronavirus. This forced us to replace the traditional 1,000 km with the individual event 'Everyone 1000'. As part of this campaign, we all travelled 23,276 km by bike… a fantastic outcome.
Fortunately, the 100 km run on Sunday, 5 September 2021 was able to go ahead. Our 20 brave runners added a nice sum to the considerable amount we had already raised through donations and the sale of gadgets.
The result: a final amount of 72,528.40 euros, which we handed over to the board of Action against Cancer.
Assistance to Walloon grid operators in the event of flooding
In July 2021, unprecedented floodings hit large parts of Belgium. Especially in Wallonia, this natural disaster took an extremely heavy human and material toll. Some 160 Fluvius employees spontaneously and voluntarily volunteered to help in this chaotic and dangerous situation. They made themselves useful mainly by checking and repairing the house connections for gas and electricity. They also cleaned numerous cabinets and meter rooms
A Fluvius employee who travelled to the affected area:
'The Walloon colleagues and residents welcomed us with open arms. They needed lots of helping hands and were very grateful.